Excerpt of a PBN Magazine article dated 11/7/22, by Stephanie Salmons, PBN Reporter.
"Canoe build was an exercise in perseverance for Gentry Homes"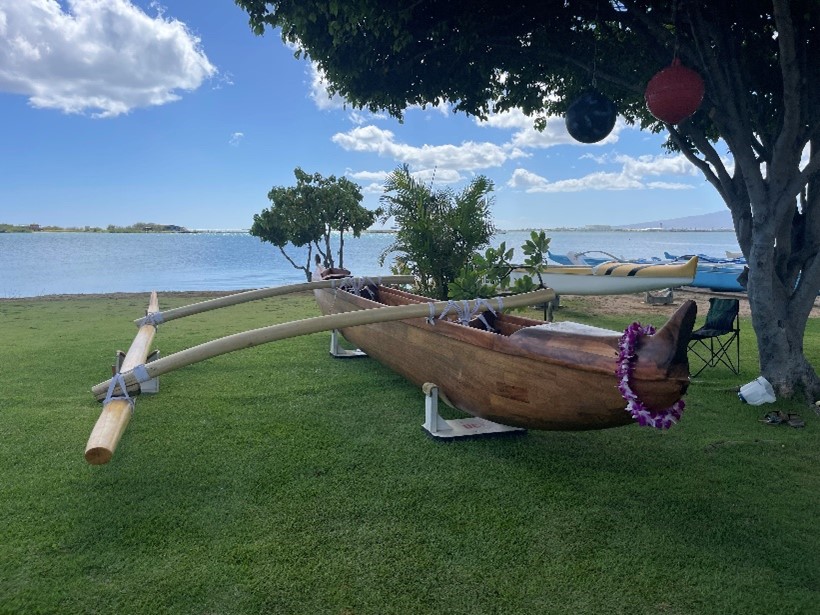 After seven years of work on the vessel – delayed in part by a 2018 cancer diagnosis – Rick Hobson, vice president of sales and marketing for Gentry Homes and the company broker – who's also a canoe paddler and woodworker – was able to launch Hoomau in late August. A blessing ceremony was held in October. The story of Hoomau starts with a log, washed ashore on Oahu's North Shore more than a decade ago, but Hobson's own journey starts long before that. Originally from California…in 1996, …Hawaii has become our home. Canoe paddling, canoe racing, canoe building have become a big part of my life since moving here. At 38 years, Hobson began woodworking he wanted to make a koa paddle for this father's 60th birthday and asked a paddling friend, Tay Perry, for help. "So I made a paddle and then subsequently I stared working with him on the canoes down at the Friends of Hokulea and Hawai`iloa shop, which was on Sand Island, and started learning how to repair canoes." "…and then an opportunity came up where there was a log that had been started by a man I knew and his son, but it was just sitting there doing nothing. Tay said why don't you buy that and build your own canoe?"
His journey with Hoomau started in 2015 (and finally launched in 2022). "It helped build me up again to where now, I can take it out and enjoy it with my friends and family, and really I'm basically back to where I was." Now that it's finished, Hobson is looking to find a home for the vessel that might be interested in displaying the canoe for educational purposes, similar to those on display at someOahu resorts. The lease or sale of the canoe will, in part, benefit Friends of Hokulea and Hawaiiloa and the Honolulu Men's Shed, "…people can learn about Hawaiian canoes and culture, and it will help through the annual donation, perpetuate the culture of canoeing in Hawaii."
Blessing Ceremony Of Ho'omau (10/9/22)
Outrigger Canoe Club, attended by FHH members: Billy Richards, Tay Perry, Ron Olivares, Vance Martin, Ben and Kanako Dumaran, Jocelyn Ancheta, Kaipo Kiaha.