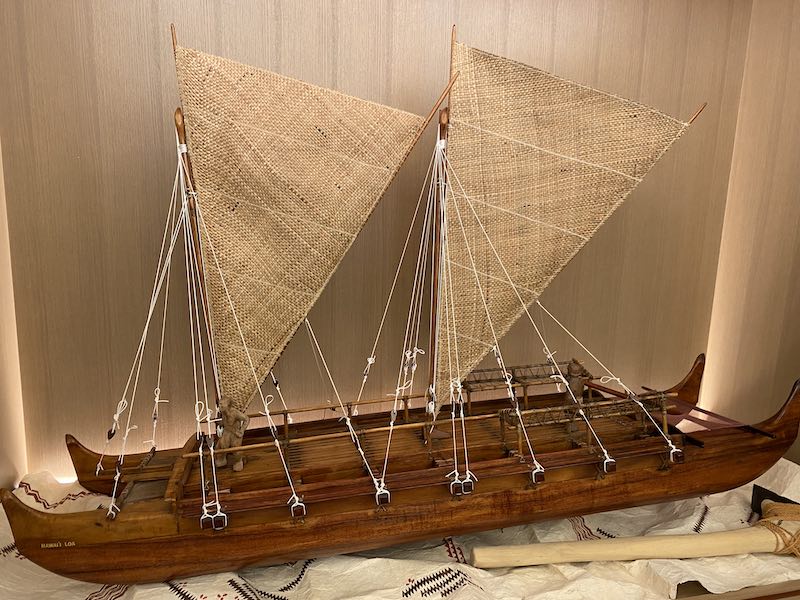 The scale model of the Hawaii Loa canoe on view here in the A'o cultural space was constructed in the early part of her 8-year apprenticeship with Mr. Bowman. Ka`ili has continued the Hawaiian practice of building scale replicas of canoes but is most known for her contemporary sculptural installations that address indigenous issues. Her contemporary practice is represented in Numerous museums and galleries such as the University of Alaska Museum; Linden Museum, Stuttgart, Germany; Museum of Art & Design, New York; Sacred Circle Gallery, Washington; The Contemporary Museum, Honolulu; the Honolulu Museum of Art and Queensland Art Gallery|Gallery of Modern Art, Australia, have exhibited Chun's installations.
Ka`ili has received several significant visual art awards. Most recently, she has been commissioned to produce new work for the 2021 Asia/Pacific Triennial for the Queensland Art Gallery/Gallery of Modern Art in Brisbane, Australia; awarded a Fellowship from the Native Arts and Cultures Foundation, 2014, Vancouver, Washington; an Artist Residency at the Joan Mitchell Center, New Orleans, Louisiana, (2013); The Joan Mitchell Foundation Painters and Sculptors Grant, New York City, NY (2010); Santa Fe Art Institute, Artist Residency, Santa Fe, NM (2008); the Individual Artist Visual Arts Fellowship in Conceptual Art, from the State Foundation on Culture and the Arts (2000) and the Catherine E.B. Cox Award for Excellence in the Visual Arts (2006) from the Honolulu Academy of Arts, which culminated in the solo exhibition, "Nau ka wae, The Choice Belongs to You." Her work is included in private and institutional collections in Hawai`i, the continental U.S., Germany, and Australia.
The Board of Directors of the Friends of Hokule`a & Hawai`iloa appreciate Ka`ili Chun by continuing the legacy of the canoe builder, "kalai wa`a". As canoe builders, we take pride in knowing that the skills and experiences given generously to us by kalai wa`a Wright Bowman, Jr. will live on in his name. From one Friend to another Friend, thank you Ka`ili for making this possible.