NEWS & EVENTS
Outrigger Reef Waikiki Beach Resort Ongoing O Ke Kai Series - Celebrating Hawai'i's Great Canoes
There were many people who made this all come together, but only one who was responsible and whom coordinated the entire event: Luana Maitland. To that end , I want to thank you on behalf of the board of The Friends of Hokule'a and Hawai'iloa for your efforts and specifically your deliverance. Well done, Luana. Thank you for allowing us to be a part of something that, as I heard it from a multitude of visitors on the beach, as an epic event!

Imua,
Jay Dowsett
Hokule'a Worldwide Voyage
December 2015
Our Polynesian voyaging canoes, Hokule'a and Hikianalia, are traveling over 60,000 nautical miles around the earth, bringing people around the world together to set a course for a sustainable future.
» Visit hokulea.com for more details.
Kaulua Wa'a, Hawai'iloa Relaunched
Launch Date: Friday 7/24/15
Location: Maritime Education Training Center, Sand Island Access Road
Hawai'iloa was relaunched on the occasion of its 21st birthday.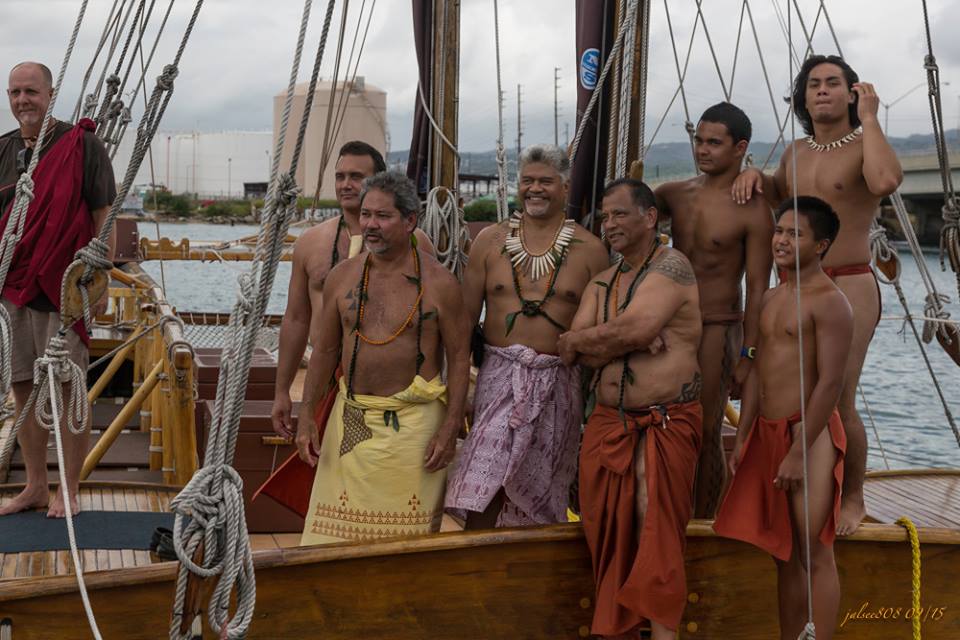 Launching of Kaulua Wa'a, Hawai'iloa
Date: Monday 3/24/14
Location: Maritime Education Training Center, Sand Island Access Road
Aloha Mai Kakou,
The day has come where we can put Hawai'iloa in the water where she belongs.
It's been some time since I penned an end-of-the-year President's Message, and perhaps this is the time to do so, if for no other reason than to remind ourselves of why there is a Friends of Hokule'a & Hawai'iloa.
Back in the early 90's Hawai'i needed a second voyaging canoe. One crafted out of natural materials. And the responsibility to build this voyager fell squarely on the shoulders of the only one that could have done it, not just because he knew how, but because he was so well-liked, and so respected that when "Wrighto" Wright Bowman Jr. blew the proverbial pu conch-shell, everyone came.
During its construction, this voyaging canoe was surrounded with the laboring sound of many hands both great and small. And at days end, it gave way to the aroma and sounds of pop-opened beer cans, barbecued food, and raucous laughter. And who can forget the rubbish can at the far end of the table, serving as the unwilling landing zone and final destination of empty aluminum containers in flight across the room. It was a lot of work, but damn it was a lot of fun.
In reality I actually was an observer, looking in from the outside. There are individuals and family members of individuals among you tonight, who worked closely with the kalai, and the wa'a kaulua he was shaping over the many months that it took to build. Your charge, your responsibility is to take the time to relive those moments then share your stories with each other and all.
In celebration of Hawai'iloa's launch I want to invite all of those who contributed their knowledge, time and contributions throughout the years. Special "Mahalo" to Jerome "Jerry" Ongies leading the restoration efforts for the past 2½ years.
Mahalo to:
JEROME "JERRY" ONGIES, Kalai Wa'a
TIMMY MAKUAKANE, Apprentice, Kalai Wa'a
Jay Dowsett, Tay Perry – Kalai Wa'a
WALLY FROISETH, Kalai Wa'a
O'iwi TV – Documentation
Monte Costa
Lynn Cook
Core Volunteers:
FHH BOD, Cat Fuller (Po'o), Joy Ancheta, Ryan Hanohano , Kukona & Makanani Lopes, Kala Thomas and, Hawai'iloa 1st Crew: Brad Cooper.
Much appreciation also to the many others who gave of their time when they could…
We could not have been able to do this without support from:
OUTRIGGER ENTERPRISES CORPORATE GIVING
BISHOP MUSEUM
OUTRIGGER REEF ON THE BEACH HOTEL
HAWAIIAN AIRLINES
ALOHA PETROLEUM
BONTERRA SOLAR
DOT HARBORS DIV – R. GRUNE
EPOXY SALES OF HAWAI'I
FIBERGLASS HAWAI'I
HARDWARE HAWAI'I
NORTH SAILS
PLYWOOD HAWAI'I
ROYAL METALS
SHERWIN WILLIAMS
WEST MARINE
COMMUNITY DONATIONS
Please join us on Monday March 24, 2014!
William K. Richards, Jr.
President
» See article: The Building of Hawai'iloa
FHH at Science Alive - Bishop Museum
Date: Sunday 3/16/14, 9 AM – 3PM
FHH will have a booth for membership enrollment, t-shirt sales, plants and tools used in canoe building, fishhooks.
ALOHA KAKOU!
Board Meetings are scheduled for the 3rd Saturday of Every Month at Pier 60, and All Members and Interested Individuals Are Welcomed to Attend.
Board of Directors
Officers:
Billy Richards – President
Tay Perry – Vice President
Denise Kekuna – Treasurer
Norman Ho – Secretary
Members:
Jay Dowsett
Marylou Foley
G. Keoki Kawelo
Jerome Ongies
Wayne Sterling
Elections are held in January annually.
T-Shirts Available for Purchase Online
FHH SOURCE LINKS
The Polynesian Voyaging Society & the Friends: The Polynesian Voyaging Society lists the Friends as a source in their Education Resources section, "Related Websites."
Friends of Hokule'a and Hawai'iloa
Starting with Bowman's and continuing today, the Friends have encouraged and supported a pool of builders, assistants and apprentices who have successfully built or restored multiple traditional Hawaiian canoes.
» Polynesian Voyaging Society web site
» Makai Magazine website

MEMBERSHIP RENEWALS
Dues are to be submitted to the Friends via the information provided on the Membership Section (download our application and mail with your payment to FHH).
Check Payable to:
Friends of Hokule'a & Hawai'iloa
Mail to:
P.O. Box 696, Kailua, HI 96734
The Friends of Hokule'a and Hawai'iloa Non-Profit Org.
EIN 99-0330963
»» Download Membership Application [PDF 190k]




---