ALOHA KAKOU!
Board Meetings are scheduled for the 3rd Saturday of Every Month at Pier 60, and All Members and Interested Individuals Are Welcomed to Attend.
2011 Board of Directors
Officers:
William Richards, Jr. – President
Tay Perry – Vice President
Denise Kekuna – Treasurer
Norman Ho – Secretary
Members:
Jay Dowsett
Marylou Foley
George Kawelo
Jerome N. Ongies
2011 Elections held in January 2011
HAWAI'I LOA "PLANK BY PLANK" FUNDRAISING PROJECT
The Friends of Hokule'a & Hawai'iloa have launched a fundraising effort to restore the historic Hawai'iloa. Due to minimal ongoing maintenance, exposure to the elements and termite damage, Hawai'iloa was pulled from the water and has been housed in pieces.
Just as builders build "one plank at a time," the Friends of Hokule'a & Hawai'iloa have embarked on a "plank by plank" fundraising campaign. The estimated restoration cost is $250,000 with a completion date of December 2013. For more information, please download the Plank by Plank Flyer.
» More from the Hawaii Loa Hou news article from hawaiinewsnow.com
ANNOUNCEMENTS
FHH Acquired an Executive Director
Wayne Hoolae Sterling has joined FHH as the Executive Director. His main goal is "to raise funds that will provide seed money for the restoration of the double hull canoe, Hawai'iloa, and to stage a fund raising event for an aggressive grant search. We will also be exploring "in kind" seeds, as the focus will be on education. The long range goal is to provide a classroom environment for Hawai'i's youth to participate in the restoration."
Who is Wayne?
"My family is from O'ahu with many of the early family members living in Kalia, the area that is now the site of the Hilton Hawaiian Village. Within the family compound of Kalia lived our relatives, the Paoas, Kahanamokus, Clarks and many more. What much later became the Hilton lagoon was our swimming hole. Lots of fond memories! The waters fronting Kalia is where many family members have had their ashes spread as we did with our brother, Leon, this past September. The family moved to Kailua in the early 50's before the Pali tunnels were bored, Enchanted Lakes was developed. It was very rural then and we still love Kailua today, despite its many changes."
"I grew up in Kailua, O'ahu and had the distinct pleasure of attending Punahou School along with my oldest sister. I am a Vietnam vet and recently retired as a general manager in the Hospitality industry. My career afforded my family and me to live in such culturally rich destinations as French Polynesia, American Samoa, Guam, California, Molokai'i, Kaua'i and the Big Island."
"My brother, Leon Alfred Paoa Sterling, was among the early members of the voyaging canoe family in the early 1970's. He dedicated his life to learning and passing on traditions that were almost lost. He never missed an opportunity to give credit to Mau Piailug for accepting the request to guide his Hawaiian 'cousins' in their quest to learn and sail again and to reconnect with their traditions in way-finding. I am humbled to be, at last, a small part of that voyage."
"I am married to the former Paula Domke, whom I met and dated while attending Punahou. We have 5 children, Malia, John, Caroline, Lilinoe and Kapua who range in ages from 20 years to 33 years. Paula, Lilinoe and Kapua have been a part of Kumu Hula Mapuana de Silva's Halau Mohala 'Ilima (2 for the past 19 years and one for 16) and they are not only dedicated to hula and the ancient traditions passed from their kumu, generations to the present, but also share inspiration with me and the rest of the non-dancers in our family. That is another amazing journey!
I look forward to being a part of this wonderful organization."
Wayne's Community Affiliations
Bishop Museum Advisory Council: President
Windward Senior Center: Board of Directors
St. Christopher's Episcopal Church: Vestry-Executive Committee/Treasurer
Rotary International: Member
Youth Correctional Facility: Volunteer Lecturer
Instructor-Kauai Community College
EVENTS/NEWS
O Ke Kai Series 2011 – Outrigger Reef & the Friends
Outrigger Reef on the Beach and FHH continue to work together. Outrigger will provide a calendar of 2011 dates and times on their website. Mahalo nui, Luana!
PROJECTS
Workdays scheduled for the 1st Saturday of each month at Pier 60
We welcome anyone who would like to help and volunteer a few hours of their time on any day of the week of the month. Call 843-8414.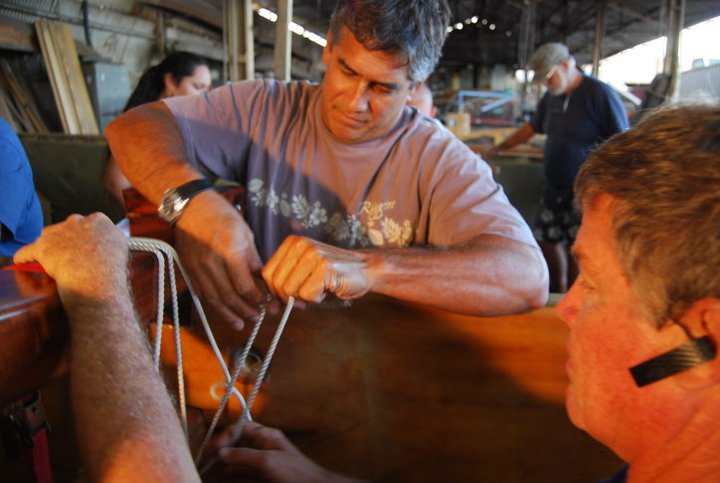 Hawai'iloa Repair Project
Volunteers arrive around 9:00 AM on Saturday morning and report to Jerry Ongies or Tay Perry for work assignments.
On November 16, 2010, under the guidance of Bruce Blankenfeld, at least 30 volunteers from FHH, PVS, METC, and students of Honolulu Community College began lashing. If you would like to join us, we meet every Tuesday at 5:00 PM.
Hokule'a Model for National Library of Medicine, Bethesda, Maryland
We are close to having 70% of the project finished, currently working on all the detail and small parts. Once that is all done, we will start lashing the parts all together. - by Jay Dowsett