ALOHA KAKOU!
Board Meetings are scheduled for the 3rd Saturday of Every Month at Pier 60, and All Members and Interested Individuals Are Welcomed to Attend.
2010 Elections held January 2010
2009 Board of Directors
Billy Richards – President
Tay Perry – Vice President
Denise Kekuna – Treasurer
David Kawika Grant – Secretary
2009 Board Members
Jay Dowsett
Marylou Foley
Norman Ho
Jerry Muller
Jerome Ongies
PRESIDENT'S MESSAGE
It's been some time since I penned an end-of-the-year President's Message, and perhaps this is the time to do so, if for no other reason than to remind ourselves of why there is a Friends of Hokule'a & Hawai'iloa.
Back in the early 90's Hawai'i needed a second voyaging canoe. One crafted out of natural materials. And the responsibility to build this voyager fell squarely on the shoulders of the only one that could have done it, not just because he knew how but because he was so well-liked, and so respected that when he blew the proverbial pu conch-shell, everyone came.
During its construction, this voyaging canoe was surrounded with the laboring sound of many hands both great and small. And at days end, it gave way to the aroma and sounds of pop-opened beer cans, barbecued food, and raucous laughter. And who can forget the rubbish can at the far end of the table, serving as the unwilling landing zone and final destination of empty aluminum containers in flight across the room. It was a lot of work, but damn it was a lot of fun.
In reality I actually was an observer, looking in from the outside. There are individuals and family members of individuals, who worked closely with the kalai, and the wa'a kaulua he was shaping over the many months that it took to build. Your charge, your responsibility is to take the time to relive those moments then share your stories with each other and all.
During August of this year the Hawai'i Tourism Authority named the recipients of their He Kuleana Ke Aloha Award presented to selected individuals for their personal commitment, and dedication to ensuring that the Hawaiian culture is perpetuated for generations to come.
This award further (and I quote in-part) "Honors the authentic portrayal of the Hawaiian culture; recognizes demonstrated commitment to the perpetuation of the Hawaiian culture;" and, "recognizes those in the community who are working to preserve and perpetuate the Hawaiian culture that helps to keep Hawai'i unique and vibrant."
In Sharon's absence, I was honored to have accepted on her behalf, the He Kuleana Ke Aloha Award recognizing Wright 'Elemakule Bowman Jr.: "Master Canoe Builder" and Founder of The Friends of Hokule'a & Hawai'iloa.
Sharon, as fate would have it I was there for the award presentation when you could not be, and you are there when I cannot. Please know that I choose to honor Wrighto at every meeting and event the Friends are involved in. Were it not for he, there would be no Friends and no Hawai'iloa. So, when all is said and done, there is a Friends of Hokule'a & Hawai'iloa and all it's supposed to stand for because of Wrighto, and who he was. All else aside, we should never forget that.
– William K. Richards, Jr., President
2009 EVENTS/NEWS
January 8 – Maiau Blessed and Launched
Chad Babayan blessed and launched his canoe that has occupied space at the FHH hale wa'a for several months. During the blessing, Chad explained that the naming of any canoe is symbolic of the circumstances, geography, stories or people that made a profound affect on its birth. When Hokualaka'i was launched, Larry Kimura acknowledged Jerry Ongies by pronouncing him Maiau, which translates to "one of highest achievement." Chad named and blessed his new canoe, Maiau in honor of Jerry. This is an honor for Jerry and one we can all be proud of.
– Reported by Jay Dowsett
March – Olelo Interview
Tay Perry represented FHH with an interview "to educate the public on the mission of the friends of Hokule'a & Hawai'iloa."
September 22 – Washington D.C. Trip
Billy and Tay were asked to take trip to Washington D.C. to do repair on the Au Hou and attend seasonal ceremonies at the National Museum of the American Indian (NMAI).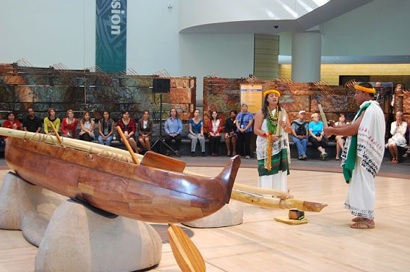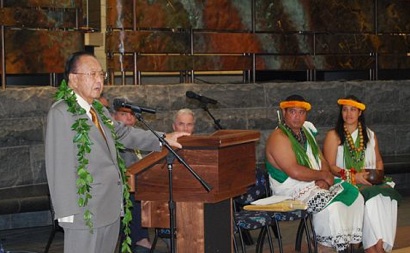 October 7 – FHH Historical Video & Storyboard Project
The original plan is to launch a video and storyboard with a fundraiser held at The Café sponsored by ING DIRECT. Credits to Jane Abreu for documentation and still photos
Mahalo e Cleota Brown
Date of Fundraiser to be announced.
December 5 & 6 - 'Ohana Wa'a
'Ohana Wa'a will be sailing their respective canoes to Lahaina, Maui during the same weekend for both a meeting of the collective, and a fundraiser for Mo'okiha (the soon-to-be-launched voyaging canoe of Maui). Recognition to Jerry Ongies who built the sweep and other parts on the canoe
2010 ANNOUNCEMENTS
January/February
Bishop Museum's Cultural Initiatives Committee had Voyaging/Migration as a topic. "In 2011 we are planning on offering a series of public lectures and workshops on Polynesian Migration through our Traditions of the Pacific program. In this regard we would definitely like for the Friends of the Hokule'a and Hawai'i Loa to be a part of that programming.
We are currently in the process of completing our 2010 calendar, which is focused on Hawaiian material culture. Billy Richards is our committee and we will work with him on this collaboration next year. We look forward to working with the Friends of Hokule'a and Hawai'i Loa to make this important programming available to the public."
January 24 – Waikiki Comm Center 25th Anniversary
Jeff Apaka will coordinate upcoming event and FHH to participate (hands-on workshop, canoe rides)
O Ke Kai Series 2010 – Outrigger Reef & the Friends
Outrigger Reef on the Beach reported how successful it was to have FHH present in 2009 and would like to schedule dates next year, i.e. March, June and September. Plans are to include Outrigger Waikiki – possible video and artifact display area for FHH in one of their shops.
» Visit the Outrigger website for their events hosted throughout the year
June 18 – 20 Aha Kane Conference
The upcoming conference will be held at Windward Community College "Great Lawn." The Friends have been working with Kamana'opono Crabbe and Gordon Umi Kai since late 2008 to develop an independent corporation based on the success of the Aha Kane 2006, "the issues of Native Hawaiian male leadership and community involvement by focusing on the cultural history and the roles of Native Hawaiian men in the past, present, and future." See more on website: www.ahakane.org
PROJECTS
Hokule'a – 10 ft scale model for National Library of Medicine
Tay and Jay have a long list of canoe projects to their credit, solely and collaboratively. The most recent were museum displays:
Hokualaka'i – 10 foot scale model at Imiloa Learning Center, University of Hawaii, Hilo
Hokule'a – 23 foot scale model at The National Science Museum, Tokyo, Japan.
They have been awarded to build a model for NLM - the canoe will be made from native woods and materials with the exception of the lashings. Those will be of modern cordage dyed to resemble sennet. Assembly of the masts, spars, booms, sails and rigging will be done on site. Rigging and lashing of the iako to the waes (outriggers to hulls) will be taught to the staff. Video of this would be archival. The canoe will be owned solely by the National Library of Medicine, 8600 Rockville Pike, Bethesda, MD 20894.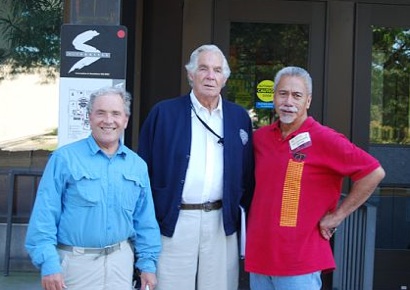 Wa'a Kaulua – Restoration of Hawai'iloa
The Friends have scheduled a monthly work day at the Pier 60 location on the 1st Saturday of each month. We arrive around 9:00 AM and report to Jerry Ongies for our work assignment.
Our biggest project for now is to refurbish the Hawai'iloa. The Friends and METC have been contracted by Bishop Museum to complete the project.
We welcome anyone who would like to help and volunteer a few hours of their time on any day of the week or of the month. For some who we haven't seen in a while, it would be good to get together again and catch up on lost time. We would love to hear from you.
FHH SOURCE LINKS
The Polynesian Voyaging Society & the Friends: The Polynesian Voyaging Society lists the Friends as a source in their Education Resources section, "Related Websites."
Friends of Hokule'a and Hawai'iloa
Starting with Bowman's and continuing today, the Friends have encouraged and supported a pool of builders, assistants and apprentices who have successfully built or restored multiple traditional Hawaiian canoes.
» Polynesian Voyaging Society web site
» Makai Magazine website
Hawaiian Miles Charities Program

Click on the Hawaiian Miles button above to signup.




MEMBERSHIP RENEWALS
Dues are to be submitted to the Friends via the information provided on the Membership Section (download our application and mail with your payment to FHH).
Check Payable to:
Friends of Hokule'a & Hawai'iloa
Mail to:
P.O. Box 696, Kailua, HI 96734
The Friends of Hokule'a and Hawai'iloa Non-Profit Org.
EIN 99-0330963
»» Download Membership Application [PDF 190k]



---