ALOHA KAKOU!
Board Meetings are scheduled for the 3rd Saturday of Every Month at Pier 60, and All Members and Interested Individuals Are Welcomed to Attend.
2008 Board of Directors
Billy Richards – President
Tay Perry – Vice President
Denise Kekuna – Treasurer
David Grant – Secretary
2008 Board Members
Jay Dowsett
Norman Ho
Michael Mason
Jerry Muller
Jerome Ongies
ANNOUNCEMENTS
HTA Announces 2008 Keep it Hawai'i Recipients
Six lifetime achievement He Kuleana Ke Aloha awards were presented for personal commitment and dedication to ensuring that the Hawaiian culture is perpetuated for generations to come. William "Billy" Richards, President of the Friends of Hokule'a & Hawai'iloa, attended the ceremony and accepted the awards on behalf of the following recognized individuals:
'Ohana Wa'a – Group of people committed to deep-sea voyaging who come together in unity to continue on in the ocean traditions of Native Hawaiians
The late Wright Bowman, Jr. – Master canoe builder and founder of the Friends of Hokule'a and Hawai'iloa
» More details about this event
The Friends will present the award for the late Wright Bowman, Jr. to his wife Sharon Bowman at their annual event.

Pwo Navigators Honored, Hawai'iloa Restored
Photo Caption: The Friends of Hokule'a and Hawai'iloa announced the restoration of Hawai'iloa and honored the navigators of the Pwo at a special event June 7 at the Outrigger Reef on the beach. Pictured above (left to right) are Nainoa Thompson, Shorty Bertelmann, Billy Richards, Chad Baybayan and Chadd Paishon.
» Read the Article (Master Navigators Name Suites at Outrigger Reef Hotel)
Outrigger Reef & the Friends
Outrigger Reef on Beach - 2008 O Ke Kai Program, May 17 and Sep 20: The Friends will continue to facilitate presentations so we invite you to come and visit us.
» Visit the Outrigger website for their events hosted throughout the year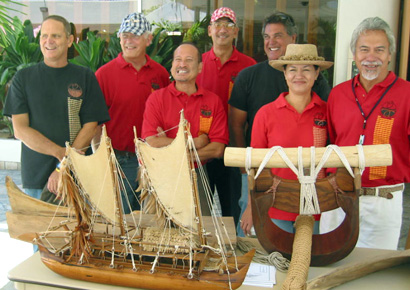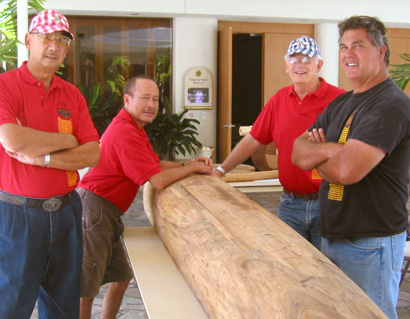 The Polynesian Voyaging Society & the Friends
The Polynesian Voyaging Society has listed the Friends as a source in their Education Resources section, "Related Websites".
PROJECTS
Wa'a Kaulua -- Restoration of Hawai'iloa
The Friends have scheduled a monthly work day at the Pier 60 location on the 1st Saturday of each month. We arrive around 9:00 AM and report to Jerry Ongies for our work assignment.
Our biggest project for now is to refurbish the Hawai'iloa. The Friends and METC have been contracted by Bishop Museum to complete the project.
We welcome anyone who would like to help and volunteer a few hours of their time on any day of the week or of the month. For some who we haven't seen in a while, it would be good to get together again and catch up on lost time. We would love to hear from you.
» Joint Effort to Restore Hawai'iloa
FHH SOURCE LINKS
Friends of Hokule'a and Hawai'iloa: "Starting with Bowman's and continuing today, the Friends have encouraged and supported a pool of builders, assistants and apprentices who have successfully built or restored multiple traditional Hawaiian canoes."
» Visit Polynesian Voyaging Society's web site
» Via Makai Ocean Lifestyle Magazine's web site
Hawaiian Miles Charities Program

Click on the Hawaiian Miles button above to signup.





MEMBERSHIP RENEWALS
2008 dues are due and can be submitted to the Friends via the information provided on the Membership Section (download our application and mail with your payment to FHH).
»» Download Membership Application [PDF 190k]



---