ALOHA KAKOU!
Board Meetings are scheduled for the 3rd Saturday of Every Month at Pier 60, and All Members and Interested Individuals Are Welcomed to Attend.
2007 Officers:
William K. Richards, Jr. – President
Jay Dowsett – Vice President
Denise Kekuna – Treasurer
Tay Perry – Secretary
2007 Board Members:
David Grant, George Kawelo, Jerry Muller, Jerry Ongies. And, we are happy to welcome back a former, and now present Board member, Norman Ho.
ANNOUNCEMENTS
Outrigger Reef & the Friends
On Sat, May 26, 2007 the Friends were hosted by the Outrigger Reef to present and demonstrate our work, tools, and video as part of their voyaging and canoe program. Most of our craftsmen and board members were present for one-on-one discussions. It was so successful we have been invited back for Sept 22 and November 3, 2007.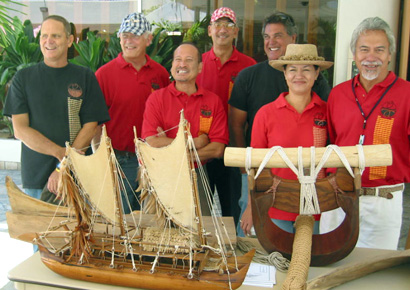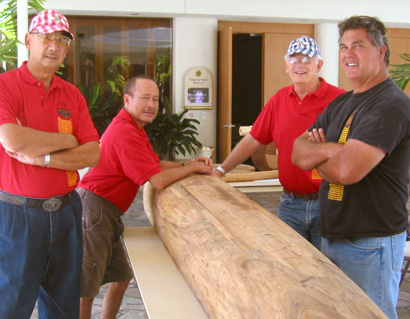 Bishop Museum & the Friends
On Thu, July 26, 2007 the Friends were hosted by Bishop Museum as one of the facilitators for their "Traditions of the Pacific" lecture series. Following-up on our successful presentation, Bishop Museum has requested a participatory workshop for Museum members on Saturday the 20th of October.
-- Mahalo nui loa Marylou Foley!
The Polynesian Voyaging Society & the Friends
The Polynesian Voyaging Society has listed the Friends as a source in their Education Resources section, "Related Websites".
Don Ho Memorial
Mahalo to Haumea Ho and those who have contributed to The Friends!
PROJECTS
Wa'a Kaulua -- Restoration of Hawai'iloa
The Friends have scheduled a monthly work day at the Pier 60 location on the 1st Saturday of each month. We arrive around 9:00 AM and report to Jerry Ongies for our work assignment.
Our biggest project for now is to refurbish the Hawai'iloa. The Friends and METC have been contracted by Bishop Museum to complete the project.
We welcome anyone who would like to help and volunteer a few hours of their time on any day of the week or of the month. For some who we haven't seen in a while, it would be good to get together again and catch up on lost time. We would love to hear from you.
FHH SOURCE LINKS
Friends of Hokule'a and Hawai'iloa: "Starting with Bowman's and continuing today, the Friends have encouraged and supported a pool of builders, assistants and apprentices who have successfully built or restored multiple traditional Hawaiian canoes."
» Visit Polynesian Voyaging Society's web site
» Via Makai Ocean Lifestyle Magazine's web site
Hawaiian Miles Charities Program

Click on the Hawaiian Miles button above to signup.





MEMBERSHIP RENEWALS
2008 dues are due and can be submitted to the Friends via the information provided on the Membership Section (download our application and mail with your payment to FHH).
»» Download Membership Application [PDF 190k]