The Friends' Annual General Membership Meeting and 2007 BOD Elections will take place in January 2007. Announcements will be mailed with the date and time.
Wa'a Kaulua
The Dedication of "Alingano Maisu"
Aloha Kakou,
On Saturday Dec 16th 2006, a dedication ceremony celebrating the completion of the voyaging canoe "Alingano Maisu" for Satawalese Navigator Mau Pialug, took place at Kawaihae Harbor on the island of Hawai'i. This was the culmination of many years and many hands of effort. Initially spearheaded by the late Clay "Cap" Bertelmann and carried on by his family, crew and, friends after his passing, "Maisu" is but a small expression of appreciation for one man "Papa Mau", who gave back to Hawaiians their past, present and, future. It is my opinion that much of what is enjoyed now as Hawaiian in nature and culture can find its beginnings in Hokule'a and Mau. But I digress…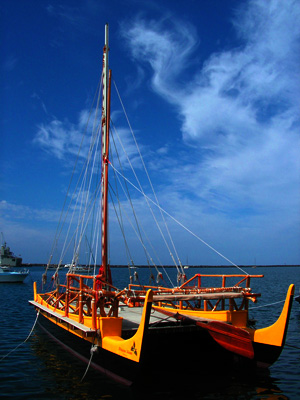 The ceremony included the blessing of "Maisu" at the pier then continued with an awa circle hosted and coordinated by Chad Paishon and Pomai Bertelmann of "Na Kalai Wa'a Moku O Hawaii". The awa ceremony included all of those individuals and organizations that contributed their time and effort in making "Maisu" a reality.
Jay Dowsett was invited to participate in the ceremony as Vice President of the Friends and also as the builder of "Maisu's" extensive hulls and, steering blade. Board members George Kawelo, Tay Perry, Jerry Muller, Denise Kekuna and, Board Advisor Eugene Kawelo accompanied Dowsett on behalf of the Friends.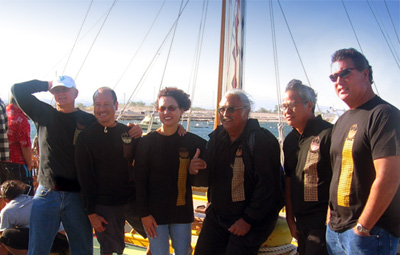 Jay Dowsett and Tay Perry presented makana (gifts) of long-sleeved "Friends" t-shirts to Navigator Chad Paishon who accepted them on behalf of the 1st Crew. Long-sleeve t-shirts are a valuable asset on long trips at sea and was accepted by the voyagers with much appreciation.
Following the awa ceremony, there was a closing pule (prayer), then pa'ina (food) and, kanikapila (music).
"Maisu" will depart for Mau's home island of Satawal in Micronesia, escorted by the well-known Hawaiian voyaging canoe Hokule'a within the next week, and upon arrival, it will be presented to him on behalf of a grateful people.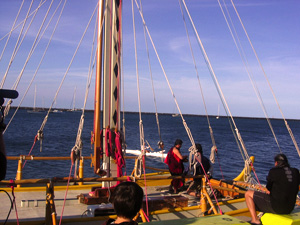 This then is one of the responsibilities that our founder Wright Bowman Jr. had envisioned for the "Friends of Hokule'a and Hawai'iloa". As an organization that supports the Voyagers of Hawai'i in their continuing quest to seek our nautical past, to sail "in the wake of our ancestors" and, to ensure that the knowledge gained is passed on through the generations.
Mahalo Nui Apau Loa,
William K. Richards Jr., President
More Reading:
» Winds delay Hokule'a launch (From The Honolulu Advertiser)



Hawaiian Miles Charities Program

Letter to Hawaiian Airlines: "To date The Friends have received 137,973 miles. We hope to multiply that many times in the next few months.
At this point at least 70% of our members are in the plan. We plan to have this at 99% by the end of the year. The "Friends" have many non-members in our canoe ohana that are also being asked to participate. In early November we plan to issue a newsletter to our members and friends asking them to sign up. In early December we will have our annual Christmas party and will be promoting Hawaiian Miles Charities there.
We are not a very large organization, but we are growing and we come in contact with many in the canoe-related community which makes us come in contact with a lot of people."
Click on the Hawaiian Miles button above to signup.