ALOHA KAKOU!
The Friends' Annual General Membership Meeting and BOD Elections took place on January 22nd. We thank all who continue to give of their time and effort toward the mission of the Friends'.
2006 Officers:
William K. Richards Jr. – President
Jay Dowsett – Vice President
Denise Kekuna – Treasurer
Vincent Monaco – Secretary
2006 Board Members:
George Kawelo, Jerry Muller, Jerry Ongies, Tay Perry. And, we are happy to welcome back a former, and now present Board member, Mike Mason.
Board meetings are scheduled for the 3rd Saturday of every month at Pier 60, and all members and interested individuals are encouraged to attend.
NMAI Project
While our direct presence with the Smithsonian's National Museum of the American Indian (NMAI) came to a close after the launching of the koa fishing canoe, Au Hou on the Potomac during July of last year, another objective of the project continues. That is, the visual documentation of the making of a koa canoe from "tree to sea".
A log, generously donated by Mr. John Kekua of the Kekua Foundation was received during the summer of 2004 and initial work began, as it was "rough-cut" and shaped into the beginnings of a canoe. It was then set aside to dry slowly to prevent cracking.
Our builders recently concluded that it has dried sufficiently to proceed to the next level, bringing the canoe closer to completion.
Hawai'iloa
The 57-foot voyaging canoe Hawai'iloa is going through a major overhaul and refurbishment, and the Friends' in partnership with the Marine Education Training Center (METC) of Honolulu Community College has committed their abilities and resources toward a complete makeover of this historical vessel.
Hawai'iloa was built using natural materials. The hulls were constructed of sitka spruce donated by Sea Alaska Corporation because koa trees sizable enough for the construction of a voyager had all but disappeared from Hawai'i's forests. The balance of the wood-materials came from Hawai'i.
Following it's maiden voyage to Tahiti, the Marquesas and, Alaska in 1995, Hawai'iloa did some limited educational sails throughout the Hawaiian Islands, then served as a center showpiece for visitors eager to learn of Hawai'i's ancient maritime heritage.
Serving well in this role, but at the same time suffering from constant exposure and damage from the elements, Hawai'iloa is now receiving the much-needed attention that skilled and caring hands can bring.
Donations made specific toward our effort to refurbish, refit and, re-launch Hawai'iloa would be much appreciated, so that this voyager may once more proudly sail "Na kai 'Ewalu", the eight seas of Hawai'i.
Hawaiian Airlines – FHH Partnership (Message from the President)
Aloha Mai Kakou Apau Loa,
We are indeed fortunate to have found support from Hawai'i's leading air carrier service, Hawaiian Airlines. They have agreed to work with the Friends' over the next year by supporting us as a non-profit organization. We in turn, can bring to them an expanded customer base.
We share this honor with very few non-profits, most of which serve the public need, i.e, The American Red Cross, The Blood Bank of Hawai'i and, The National Kidney Foundation.
I believe this could be a very promising relationship of mutual benefit.
Let's do our best to pass the word on to friends and business associates, thus allowing them to support our efforts in a unique manner.
» Visit HawaiianMiles Charities web page and pass on.
Mahalo Hawaiian Airlines! - William K. Richards, Jr., President, FHH
"I think this will be a good plan. I have signed up for it myself and am asking all of my friends and acquaintances to sign up on the Hawaiian Airlines Website. It does not cost the participant anything and can benefit our organization with travel and other benefits."
- Tay Perry, FHH Board Member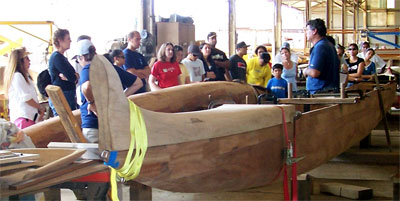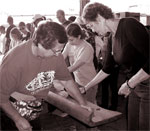 Sat., 1/28/06 - CLASSROOM VISIT
Guests: Lynn M. Hodgson, Professor of Natural Sciences & Students from UH-West O'ahu
Jay Dowsett and FHH Board Members hosted a site visit due to an inquiry received from our website, fhh-hawaii.org. Our focus was to invite them to our workshop at Pier 60 and present the different projects currently in progress from single hull canoes to the biggest coalition with METC to repair Hawai'iloa (double hull canoe).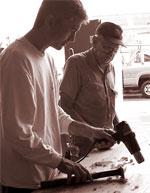 "It was good to finally meet you, and my students (and I) got so much out of our trip. Seeing where the action really is for modern Polynesian Voyaging was a real privilege, as was seeing Hokule'a in person. Then those who could stay later than our usual class time helped the guys put up the masts. That was about 8 of us, and was really special. Several of the students took a bazillion pictures, so I'm sure you will be receiving some! Thanks for everything." – Lynn M. Hodgson, Prof. of Natural Sciences, UH-West O'ahu
Lifetime members: W. Richards/Family; G. Kawelo; J. Muller